A CONFERENCE THAT FOCUSES ON CONTEMPORARY PRACTICE

AND INNOVATION IN K-12 EDUCATION.
21st Century Learning Conference was hosted at HKCEC on 8th to 9th March. The conference provides timely, relevant and authentic professional development that stimulates professional debate for educators at all levels. It aims to facilitate the development of a community of learners. Participants were from Hong Kong and oversea international school teachers, principals, librarians, curriculum teachers and institute directors, etc.
We are glad to meet all of you at the conference. We aim to enhance the students learning by providing high quality learning solutions to students and teachers. We aim to through introducing international awarded teaching solutions and tools to help teachers better their teaching.
As one of the exhibitor, Info Access introduced various awarded learning solutions, include English literacy, STEM education and Professional Development resources to the visitors.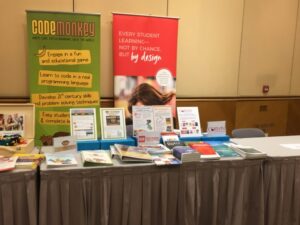 English Literacy
Learning A-Z provides the best English literacy program over 10 years and it is widely used in different educational institutions around the world. Learning A-Z provides over 3,000 leveled-ebooks and over 5,000 teacher resources. It aims to raise students' interested in reading, enhance students English ability, help teachers carry reading and English lesson and teach diversified knowledge.
Achieve3000 is the first launch in Hong Kong. Achieve3000 provides the only patented, cloud-based solutions that deliver daily differentiated instruction for nonfiction reading and writing that are precisely tailored to each student's Lexile® reading level.
STEM Education
We provides various systemic and awarded STEM Education solutions, in order to help teachers teach and carry out STEM lesson easily. This time, we introduce CodeMonkey and EiE to the international schools.
CodeMonkey as a top five code learning solution in the world, it teaches students code in a real programming language. A game-based learning, in order to engaging students learning and raise their interested in coding and computer. CodeMonkey trains up students' logical, mathematical thinking, problem solving and creativity. It is widely used in foreign countries, such as USA, Canada, UK, Japan and Korea, etc.
EiE is a STEM program that developed by Museum of Science, Boston. EiE® is an innovative and distinct engineering educational resources for Pre K – 12 students and teachers. It trains up students' problem solving skills and creativity by engaging hands-on engineering challenges. EiE curriculums are followed NGSS and international standards. Its provide a wide range of teacher resources, such curriculum guides, worksheet and teaching tips, in order to increase teachers' abilities to teach engineering and technology to students.
Professional Development for Teachers
For helping the educators make the greatest impact and help them enhance their teaching, Corwin books represent the latest thinking of the most respected experts in Pre K – 12 education. Corwin books are not only authored by world-renowned subject experts, they are research-based and peer reviewed for quality. Whether you are a leader looking to inspire school reform or a teacher in needs of solutions to daily challenges and high quality professional development.
We hope that we can help the teachers and students enhance teaching and learning successfully. For more information about Info Access, please click here!