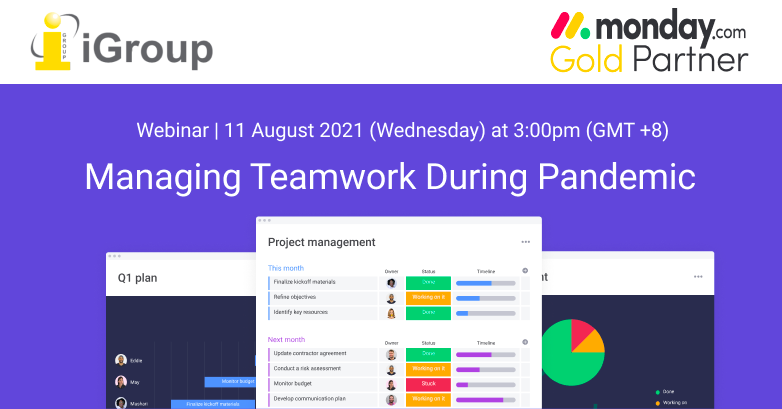 Work OS: A platform for the future of work
monday.com is the Work Operating System (work OS) that can manage every part of your team/ department/ business in one place.
In Webinar, we will share tips on how to connect and power your teams to collaborate, manage and track work with confidence even they are working remotely!
Join us on 11 August 2021 (Wednesday) at 3.00pm (GMT +8)
Who should attend?
C-levels, Directors, Head of Departments, Managers, Team Leaders, and just anyone that works in a team!
Agenda
Learn how to plan, organize, and track all of your transactions in one place!

Hear from industry leaders on how they unlocked value with monday.com

Q&A session with a group of panelist to discover what you wish to know

And much more!
Kanin Suwannapasri
Vice President
ICP Ladda Co., Ltd.
Dr. Nicco Tan
Vice President – Brand & Marketing
Genting Malaysia Berhad
BONUS! We're offering a special treat for all attendees and there will also be special prizes to be given away during the webinar! So don't miss out this amazing event.
Save your date today!
Join us on
11 August 2021 at 3:00pm (GMT +8)